The Dubois Center at UNC Charlotte Center City continues to serve the urban community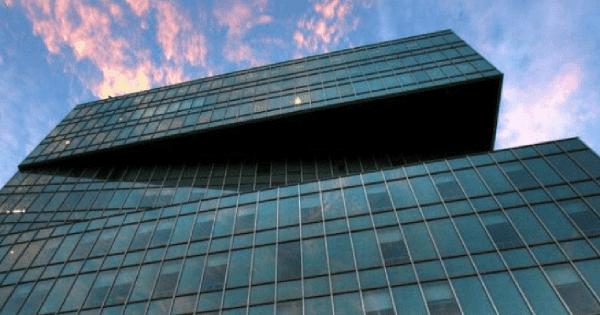 For more than a decade The Dubois Center at UNC Charlotte Center City has provided a meeting point for the urban community and the abundant resources of a thriving research university to connect under one roof.
Located in the First Ward – the heart of uptown Charlotte – the 11-story modern architectural marvel continues to fulfill the mission initiated by its namesake, former UNC Charlotte Chancellor Philip Dubois, who envisioned a facility that would serve the metropolitan's businesses, organizations and residents with opportunities to learn, study, collaborate and grow.
In August, approximately 60,000 people came through its doors to meet, conduct business or seek educational opportunities inside the urban center. In September, that number is expected to be more around 80,000 people.
Opening in the fall of 2011, the 143,000 square foot towering glass creation includes 25 state-of-the-art classrooms and design studios, six conference rooms, a 90-seat lecture hall and a 300-seat auditorium. Each of its three architectural "blocks", designed to resemble a stack of books by its exterior view, houses one office floor, as well as two instructional floors connected by a multistory lounge. The bottom portion of the building showcases a double-height atrium, a coffee shop and The Projective Eye Gallery, which exhibits local, national and international art.
It's an environment carefully constructed to meet the needs of the working professional, no matter where they are on their learning path.
Currently, 23 academic programs through the colleges of Business, Education, Arts & Architecture, Liberal Arts, Health & Human Services and School of Data Science offer students the chance to enhance their education, either through one-day workshops, weeklong boot camps or even by earning their bachelors, masters or doctorate degrees.
This fall 80 evening classes and 46 day classes will serve 1,399 and 775 students, respectively, in The Dubois Center. Another 2,600 students will advance their careers through certificate programs and professional development offered through the center's School of Professional Studies' continuing education programming.
But the building isn't just focused on matriculation. It's the locale for hundreds of university, corporate and community events held annually.
Last month, the Belk College of Business held its Graduate Programs Orientation. J. Murrey Atkins Library hosted a discussion with author La Shonda Mims on gender, race, region and queer identity in the south. Sol Summit 2023 brought together organizers, community members and elected officials to find solutions to environmental and social justice challenges. UrbanCORE hosted a community engagement orientation for new faculty members and staff to learn how they can use their talents to address the needs of Charlotte communities. In total, 116 events were scheduled within The Dubois Center in August.
As of September 1st, 426 events have been booked already for the semester, with another 200 expected by the semester's end. Among them, the Charlotte Business Journal's Sustainability Panel, the State of Housing in Charlotte Summit, Black Youth Wellness Summit, the National Institute for Trial Advocacy's Deposition Skills: North Carolina and the Chancellor Speaker Series. Attendance for these events is estimated at 8,588 people.

To read more about events and programs at The Dubois Center, or to book an event, visit duboiscenter.charlotte.edu.