Mission Statement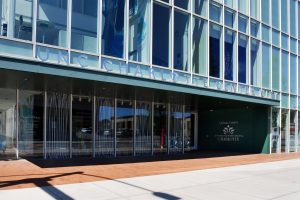 The Dubois Center at UNC Charlotte Center City functions as a gateway between the city of Charlotte and the University and, as such, embodies UNC Charlotte's urban identity in the heart of the greater Charlotte region.
The Dubois Center facilitates programs for which the urban context is an important component of the adult learning process and programs which serve employees and residents of the urban center of Charlotte. Twenty-three academic programs are offered at The Dubois Center in the Colleges of Business, Education, Arts & Architecture, Liberal Arts and Health & Human Services, and the School of Data Science.
Home to the School of Professional Studies, the building bustles with working professionals and adult learners who are able to conveniently access continuing education programs ranging from 1-day workshops, to short-format certificates and boot camps, to degrees.
Architecturally, it reflects its mission as a premier institution of higher education; its context in this vibrant, rapidly urbanizing area; and its commitment to environmental sustainability.
Operationally, it incorporates the attributes we wish to instill in the entire University: excellence in programming, responsiveness to stakeholders, entrepreneurship, interdisciplinary productivity, inclusiveness, flexibility, and efficiency.