Supriya Pandita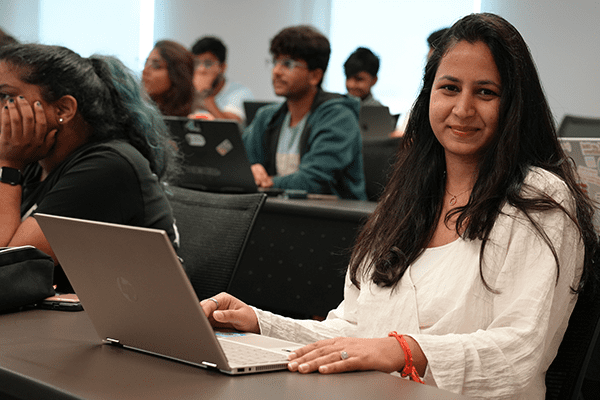 Supriya Pandita is a graduate student, studying engineering management through the William States Lee College of Engineering. She moved to Hickory, North Carolina, from India in 2020, met her spouse in 2022 and plans to graduate by summer 2024. We sat down with Supriya inside The Dubois Center to learn more about her life and future plans.
What's your connection to The Dubois Center?
I work as a paid student intern here, and I also attend classes at the Belk School of Business.
What do you like about your job in The Dubois Center?
I get to meet so many interesting people — people from different communities and cultures — and it opens your mind in different ways. Over the summer I met someone from Italy who came to see the art gallery.
Also, the team I work with is the best team. I can have one-on-one conversations with anyone regarding my future aspirations or even different cultures. They are so welcoming and they hear my opinions.
Why did you choose UNC Charlotte?
I applied to three universities and was accepted into all of them, but I chose UNC Charlotte because of the concentrations in logistics and supplies, energy analytics and systems analytics. The degree here offers a wide variety of subjects.
Experience any culture shock after you arrived from India?
It's not really a culture shock, but I love drive-throughs. They don't exist in India. You would literally have to go and wait in a long queue before your order arrives. But here it's so good. Sometimes you just want to grab something and not go inside.
Where do you see yourself living after graduation?
I'm open to the globe. I would like to stay in the United States, but if I get an opportunity to go to Sweden or Germany, I won't mind.
What's your dream job?
Product manager. I would like to deep dive and really know what set of expectations the customers have, and then have the ability to change the designs and innovations of the product. It could be something as simple as a pen or as complicated as a heat exchanger. I'd like to look at the design part as well as the management of it.
Any wisdom you'd like to pass along to others?
We are so involved with thinking of the top position that sometimes we don't enjoy the challenges and possibilities that come from climbing the steps. I think we should take one step at a moment, and not think so much about the top.